Internationally recognised for our impact
---
Sisters at Law is proud to share that our fight for women's and children's rights across Sri Lanka has been recognised by the international community. The prestigious International Women of Courage honour was awarded to our founder, Marini De Livera, from the U.S. Secretary of State. She also received the Points of Light award by the late Queen Elizabeth II. We feel honoured and grateful for this recognition. That is why we also want to say "Thank You" to our donors and helpers for their generous support and encouragement.
---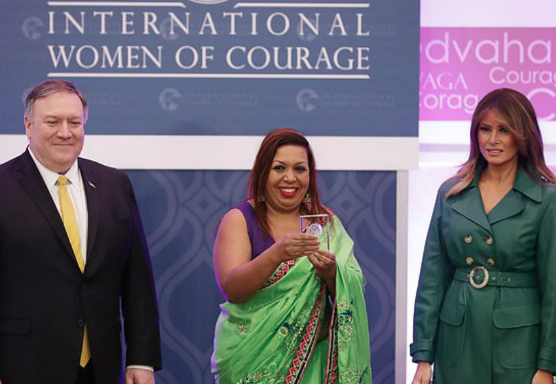 In recognition for her courageous leadership and struggle for social justice and human rights for women and girls, Marini De Livera received the International Women of Courage Award.
The 163rd Points of Light Award was given to Marini De Livera for her effort to support survivors of gender-based violence.
About Us
---
Sisters at Law is a registered national charity for women's and human rights in Sri Lanka. The organisation was started by human rights lawyer Marini De Livera to help women, families and children in need. Our organisation provides a wide range of programmes to benefit both our beneficiaries directly, but also society as a whole. We draw on the proven approaches of other organisations, such as the PACE Centre for Girls in Florida, USA.
Our support package includes legal aid and safe shelters for survivors of various forms of violence and abuse. Moreover, we run educational activities and livelihood support projects. We are also involved in awareness campaigns and advocacy work.
We are courageous and look after individuals who have been rejected or mistreated by society and other organisations. It is our belief that every human being deserves to enjoy peace, justice and human rights.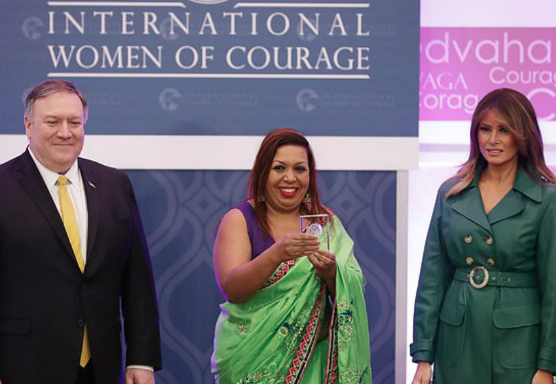 ---
Our Founder
Marini de Livera brought Sisters at Law to life in 2018. She built the vision and mission of the organisation on her experience as an attorney-at-law and human rights activist. She is also a former chairperson of the National Child Protection Authority (NCPA) in Sri Lanka.
Marini De Livera's leads a fierce fight against child abuse and for women's rights in Sri Lanka. Her efforts are recognised by the international community which earned her the prestigious International Women of Courage Award in 2019.
---
---
Gender-based, Domestic & Institutional Violence
Violence against women is unfortunately very common in Sri Lanka. The prevalence of intimate partner violence is estimated at around 20-30%, with some reports providing statistics as high as 70%.

Furthermore, the rights of children in care tend to be neglected as well. As a result, orphanages can become sites of abuse and exploitation.
The Importance of Legal Literacy
Despite Sri Lanka's high general literacy rates, legal literacy remains poor. Consequently, violations of human rights and other laws often go unnoticed.
Inadequate Service Provision for Survivors
Living with their abusers and having no other place to go, many survivors of domestic violence do not come forward to report the abuse. Even if they do, they face a dearth of long-term shelters. As many survivors are financially dependant on their abuser and lack employability skills and training, their road to recovery and independence can take many months.
Human Right to Access to Justice
Due to poor legal literacy among the Sri Lankan population and a dearth of organisations providing free legal aid, survivors face challenges when seeking justice. Financial difficulties and the inability to pay for a lawyer are the most obvious issues. Survivors also tend to be ill informed about available legal remedies and hence, unable to access them.
Need for Law Reforms
While the Prevention of Domestic Violence Act was passed in 2005, its implementation still leaves much to be desired.

There are many other issues around women and children's rights which are often overlooked in Sri Lanka, such as child protection. Moreover, family-based alternative care should be enacted in line with the UN guidelines.
Women Lawyers Face Challenges in the Profession
Female lawyers in Sri Lanka face many obstacles when entering the profession. These problems range from a lack of women-friendly law chambers, mentoring and female role models to insufficient education and awareness on the constitution, laws and the legal machinery.
---
---
Safe Shelters
Crisis and long-term accommodation for women and children at risk, including schooling and income generation activities.
Legal Aid
Pro bono legal services for survivors of GBV and victims of women's and children's rights violations.
Advocacy
Lobbying for law reforms, empowering women in the profession and increasing legal literacy through awareness campaigns.
---
To maintain our shelters and provide our wide range of services, we rely on the kind help of our supporters.

There are many ways through which you can make a contribution to support vulnerable women and children. We welcome monetary donations and gifts in kind. Please also get in touch, if you wish to volunteer or become a sponsor.